Franchising-Partnership Annoncement
CQF and CJP PARTNERSHIP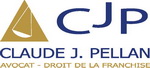 The CQF is proud to announce its new partnership agreement with Mr. Claude J. Pellan which provides that Mr. Pellan will be one of the principal sponsors of all CQF activities.
With the teams of the committees of the CQF, Mr. Pellan will be one of the sponsors of the "Gala Maillon d'Or", the series of Franchisor-Builders Conferences, the CQF Golf Tournament as well as of the new Breakfast-Conference activity called, "The Franchise invites itself to Breakfast".
The Breakfast-Conferences
This activity is the result of the efforts of the Training Committee on which Mrs Nancy Lessard, of Fix Auto, assumes the presidency and of Mr. Pellan to create a new type of interactive and dynamic training conference. The objective of this new activity, which is similar to a "Town Hall Meeting", is to offer to our members a relevant, detailed and practical training and to allow them to benefit from the experience of our panelists, different players from the franchise industry.
Every Breakfast-Conference will deal with a subject that touches one of the important axes of the franchise business model (operations, human resources, real estate, advertising, etc.). The subject will be addressed by four panelists and, occasionally, by a special guest.
The CQF is also proud to count on Jocelyne Gagné (Lavery De Billy), Daniel Pelletier (Belmond Plus Accounting Services) and Stéphane Breault (Imagine-Franchise and Leadership) as panelists of this activity which Mr. Pellan will join.
Finally, the CQF wishes to thank Mr. Pellan for his contribution to the promotion and the development of the franchise business model in Quebec.
Pierre Garceau
President and Managing Director
 
Please note that the next Franchisors-Builders Conference will be on September 23, 2010.